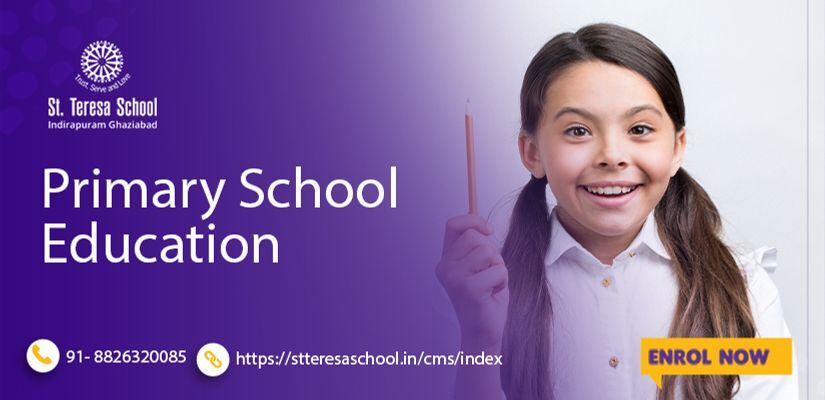 Primary School Education at St. Teresa School
What is pre–school education and primary school education?
Pre-school education is the education imparted to children in 3 – 6 years age group. This is the first stage of arranged education. It is also known as pre-primary education.
Primary school education is the first stage of formal education, coming after preschool/ kindergarten and before secondary school. It is for students in nursery through the sixth class. Primary education produces students with a basic knowledge of varied subjects as well as the skills they will use throughout their lives.
Aim of preschool and primary school education –
The overarching aims of pre–school education are –
Providing strong foundations for all-round development and lifelong learning
Preparing the child for school
The basic aim of primary education are –
Children education as one of the main aims of all-round education
Full and harmonious development of children
Encouragement of inner, moral, ethnic, mental, and physical evolve of students and in school and society
Difference between preschool and primary school –
Pre–school –
it refers to a preparatory school that has been designed for children under the statutory school age
Generally, half-day
The subject in primary school generally, include mathematics, social studies, physical education, etc
Primary school –
basically, an elementary school which usually consists of one to four grades of a school
It covers the children between the age of 5 and 11
After completing primary education, the students move on to a secondary school
Full day
It gives a syllabus for well–rounded learning
Develops language and numeracy skills
Generates various opportunities to access the library etc
From where the children can have the best public school education
Well, there are various top schools in India that provide the best public school education to all the children, and St. Teresa School is one of them, who comes among the top 10 schools in Indirapuram and gives a safe and comfortable learning environment to all their students.
St. Teresa is the best CBSE-affiliated English mediumschool in Indirapuram with an associated degree English medium faculty, which aims to provide complete learning always to its student, besides the classroom syllabus of studies. The varsity to produce innovation and fearless education to attain the general and balanced growth of youngsters
Give your child the best private school education with St. Teresa. The school's purpose is to entitle the children to meet the complexities in every field of life to become truly powerful global human beings. Every kid justifies a safe happy and refined childhood and we make sure the best beginning in life for every child through a quality early childhood education program.